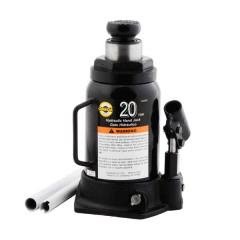 Hydraulic Bottle (Hand) Jacks
All jacks are unconditionally guaranteed. Our minimum sale is $15.00. All shipments are FOB Shipping Point.
This page is set up with a SECURE SHOPPING CART. To place an order, click on the ADD TO CART link next to the item(s) of your choice. We accept AMERICAN EXPRESS, DISCOVER, MASTERCARD, VISA, PAYPAL and ON-LINE E-CHECKS.
Sorry, no COD Shipments!
FEATURES
Heat treated extension screw allows low pickup height adjustment and maximum height (except BH2300)
U.S. Patented built-in by-pass device protects hydraulic system from over pumping damage
Unique cross-type forged release valve assures positive control
A wide, rugged base provides stability and strength
Easy-accessible pumping system eliminates off-center pumping force for the most efficient operation
One (1) year limited warranty against defects in material and/or workmanship. Warranty service available worldwide if needed.
The jack models listed are made by either BLACKHAWK, OMEGA or BVA HYDRAULICS. Other brands and sizes are available.
IF YOU NEED COMPLETE DIMENSION INFORMATION OR A PICTURE OF ANY OF THESE JACKS, CONTACT US! WE CAN EMAIL COMPLETE INFORMATION TO YOU.
For BLACKHAWK TRANSMISSION JACKS, visit our BLACKHAWK TRANSMISSION JACKS page. For HYDRAULIC FLOOR/SERVICE JACKS, see our HYDRAULIC FLOOR JACKS page.