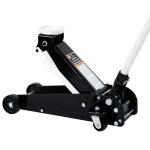 Hydraulic Floor Jacks
All parts are unconditionally guaranteed. Our minimum sale is $15.00. All shipments are FOB Shipping Point.
This page is set up with a SECURE SHOPPING CART. To place an order, click on the ADD TO CART link next to the item(s) of your choice.
We accept AMERICAN EXPRESS, DISCOVER, MASTERCARD, VISA, PAYPAL and ON-LINE E-CHECKS.
Sorry, no COD Shipments!
FEATURES
Hydraulic system is protected from internal damage by a patented by-pass mechanism
Rugged steel wheels and full swivel ball bearing casters
One (1) year limited warranty against defects in material and/or workmanship. Warranty service available worldwide if needed.
For BLACKHAWK BOTTLE JACKS, visit our BLACKHAWK BOTTLE JACKS page. For BLACKHAWK FLOOR/SERVICE JACKS, see our BLACKHAWK FLOOR JACKS page.
IN ADDITION TO THE POPULAR MODELS LISTED HERE, WE OFFER DOZENS OF OTHER MODELS, TONNAGES AND BRANDS. IF WHAT YOU NEED ISN'T LISTED, CONTACT US