Search by part
Search by manufacturer
Safety & Maintenance
Parts Breakdowns
Don't see what you need?
Shipping & Returns
All orders are shipped FOB shipping point. If you request shipment by USPS Priority Mail, we will provide a Delivery Confirmation showing the package was deposited at the Post Office.
No opened kits or installed parts may be returned for credit and no returns will be accepted after 30 days from date of shipment. Returns are subject to a 20% restocking charge. All returns must include a copy of the receipt or no credit will be issued. Shipping charges are not refundable.
We Accept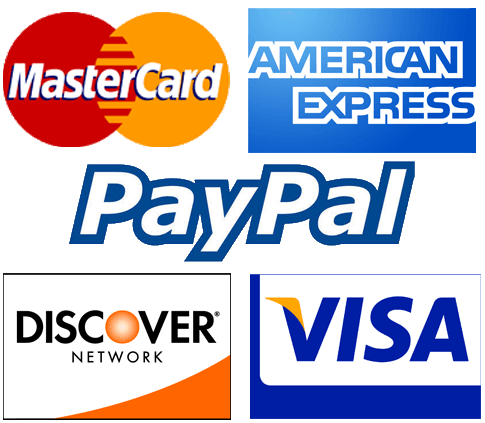 More brands. More lines. More knowledge.
Backed by 65 years of factory-authorized Tools & Hydraulics repair service.
Safety & Maintenance
Operating Instructions
Position jack under vehicle or other object to be lifted. Always be sure lift pad or lift point is centered
Front wheels and casters of floor jacks must be free of obstructions so the jack can travel under load. Otherwise the lifting pad is liable to slip off or put undue strain on point being lifted. Vehicle must be out of gear and brake released when lifting.
To lift - turn handle or release knob clockwise and pump. If jack is air-bound, open release by turning handle or knob counter-clockwise, hold open and pump rapidly about 4 full strokes. Then close release and pump jack to full height without load. Open release and lower jack. THIS STEP MAY HAVE TO BE REPEATED SEVERAL TIMES TO BLEED ALL THE AIR FROM JACK
LUBRICATION
Oil front wheels, caster bearings, all linkages and moving parts periodically
Grease lift arm at grease fitting (if so equipped) and lower end of handle at yoke casting
IMPORTANT
USE JACK FOR LIFTING ONLY. TO INSURE SAFETY, ALWAYS SUPPORT VEHICLE OR LOAD WITH STANDS OR OTHER SUITABLE DEVICES SUCH AS TIMBERS, ETC.
Parts List & Operating Instructions
Preventive Maintenance
IMPORTANT: The greatest single cause of failure in hydraulic units is dirt. Keep your jack clean and well lubricated to prevent foreign matter from entering the system. If the jack has been exposed to rain, snow, sand, or grit, it must be cleaned before putting away.
Store the jack in a well-protected area where it will not be exposed to corrosive vapors, abrasive dust, or any other harmful elements.
Lubricate moving parts at least once per month.
Regularly wipe the cylinder columns with a clean cloth to remove dirt and abrasives.
Inspect the jack before each use.

Take corrective action if any of the following problems are found:

Cracked or damaged housing
Excessive wear, bending, or other damage
Leaking hydraulic fluid
Scored or damaged piston rod
Loose hardware
Modified or altered equipment

WE CAME ACROSS A WEB SITE THAT CONTAINS VALUABLE INFORMATION ON HOW TO REPAIR HYDRAULIC JACKS. WE INVITE YOU TO VISIT OTTO SERVICE'S WEB SITE AT: WWW.HYJACKS.COM/H7.HTM.
SERVICE INSTRUCTIONS
CONDITION: Jack does not rise when pumped
CAUSE: Release valve not closed. Valve balls not seated. Jack out of oil
CORRECTION: Twist handle clockwise. Remove valve balls and clean. Reseat by tapping balls lightly on their seats using a brass rod & small hammer. Check oil level and fill to proper level.
CONDITION: Jack does not lift to full height
CAUSE: Low oil level.
CORRECTION: Lower jack to down position. Remove oil filler plug. Add clean HYDRAULIC JACK OIL to cover the cylinder or, if an upright jack, to the fill hose in the reservoir. DO NOT USE BRAKE FLUID or STANDARD HYDRAULIC OIL!! Use ONLY HYDRAULIC JACK OIL.
CONDITION: Jack creeps down under load
CAUSE: Release ball or discharge ball leaking. Piston cup is leaking
CORRECTION: Remove & clean discharge ball if jack handle rises under load. Rebuild jack using repair kit.
GENERAL INSTRUCTIONS
When rebuilding your jack, always replace all of the parts that are supplied in your repair kit
Some repair kits are "Universal" kits that fit several series of jacks. You may find parts in these kits that are not used in your particular model
Use only HYDRAULIC JACK OIL. Regular hydraulic oil may be too heavy and cause problems in cooler weather.

NEVER

use Brake Fluid.
Always clean all parts of your jack before installing new parts
Most floor jack are supplied with a SAFETY OVERLOAD VALVE. Generally, these Safety Valves are not field repairable.
Keep track of where the old parts come from when disassembling the jack. This will make the installation of the new parts easier.
DO NOT OVERLOAD YOUR JACK - Too heavy a load may cause a hydraulic or structural failure leading to damage, injury or death.
A box-end or socket wrench must be used when assembling the ram half of the quick coupler to the ram. The coupler may be damaged beyond repair by using an open-end wrench. It is also recommended that Teflon Tape be used on all pipe threads.